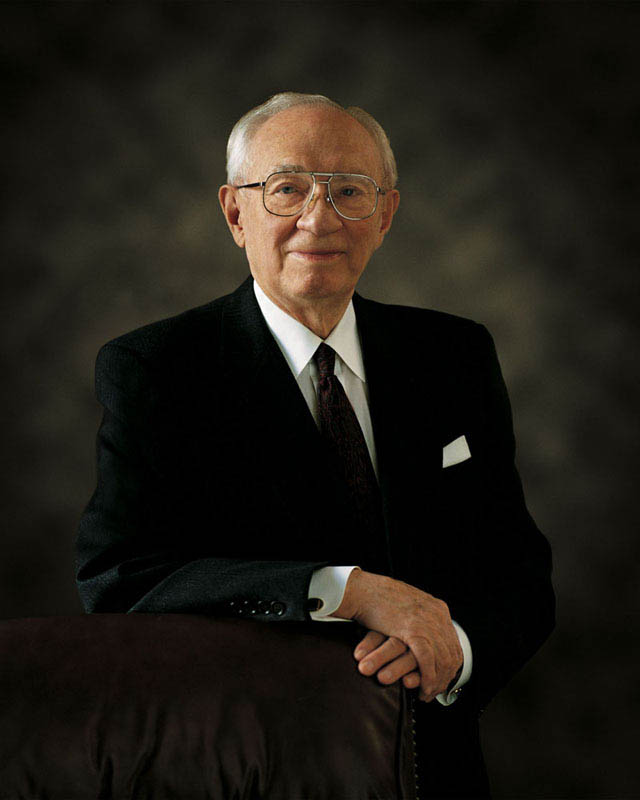 Gordon B. Hinckley was divinely prepared to be a prophet. Raised in the Salt Lake City area, he was baptized by his father, Bryant, on April 28, 1919. After graduating from the University of Utah, he was called to serve a mission to Great Britain. After he returned, he altered his former plans to study journalism, and began a lifetime of service to the Church of Jesus Christ of Latter-day Saints. He worked extensively in public affairs, and was employed as the executive secretary of the Church Radio, Publicity, and Literature committee. His call to serve as an Apostle came in 1961. He served eventually, as well, as counselor to three other Church Presidents: President Kimball, President Benson, and President Hunter.
President Hinckley was pragmatic and visionary; bold and brilliant; tender and tenacious in his testimony and leadership of the Church. He understood the potential of technology and the media in advancing the gospel of Jesus Christ. He inspired an unprecedented era of temple building, and spent much of his time traveling the world to counsel, comfort, and befriend those of the Church and those of other faiths.
He was loved by those from all walks of life. He knew and followed the Savior to the very end. President Hinckley leaves behind a monument of faith, a legacy of temples dotting the globe, a trail of hope and encouragement for the world.
President Hinckley passed away on Sunday, January 27, 2008, surrounded by loved ones.